Day Seventeen
prediction
: Germany 2-0 England - "Germany's attack is fast, dynamic and uses the width of the field"
We'll be hearing about
Frank Lampard's disallowed goal
forever. Literally, forever. The Brits don't forget football grievances (unless of course they benefit from them); I'm looking forward to the British tabloid headlines (Blitzed by Fritz, maybe?) tomorrow. Fair enough, it was clearly a goal and could have changed the game at 2-1 down.
But Germany looked the better team and probably deserved to win regardless. They had more intent, more energy, more creativity. Their goals were impressive, flowing moves that England's defence couldn't deal with:

Germany 3-1 England

Simão | MySpace Video
prediction
: Argentina 3-1 Mexico - "Mexico aren't the best defensive team, which will afford Messi and Co. some chances"
Got this one spot on, though it was a bit of a guess. Another game, another
argument for video replay
. I'm not convinced, but something needs to be done. This is Argentina's first goal, Messi to Tevez in an offside position: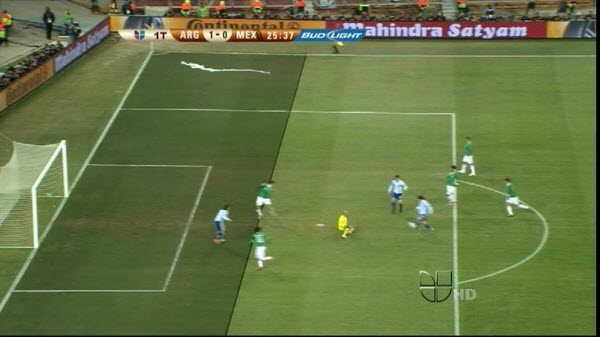 In the end they probably deserved to win, but Mexico did show that with some pressure the Argentine defence will crack. To Maradona's credit, he chose an actual defender at right back to counter Mexico's Carlos Salcido, who was dangerous again. (Though, if you think Maradona is actually making these decisions, you're nuts. He has competent assistants for a reason.)
So two huge
reffing mistakes
, two ambiguous outcomes. Yes, each COULD have changed the games, but in the end I think most neutrals would agree that the end results reflected the games.
The draw
Germany will face Argentina in the quarter-finals, in
a repeat of 2006
, in which we had some familiar faces: Klose scored for Germany, while a young Lionel Messi could only watch from the bench. Germany won on penalties.
Cameraman gets a bit too close
I've never liked Gabriel Heinze. Watch him get hit in the head with a camera then lash out. Heh.